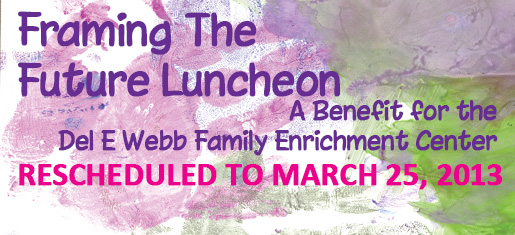 4th Annual 'Framing the Future' LuncheonRescheduled to March 25, 2013
Last updated: 3/25/2013 9:31:46 AM
Framing the Future has been rescheduled to March 25, 2013!
A benefit for the Del E. Webb Family Enrichment Center (FEC), presented by National Bank of Arizona Wealth Management
Join the FEC and the Yavapai College Foundation for the fourth annual Framing the Future Luncheon. Help us make a difference!
You may purchase tickets for the event at $75 per plate online or through the YC Foundation office.
For more information or to purchase tickets, visit Framing the Future.
For additional information, please visit: www.yc.edu/framingthefuture
---
News Archives »