Laura Cline Honored as PTK Faculty Scholar
English Professor Among 25 Selected Nationally for Honor
Last updated: 1/15/2013 9:26:27 AM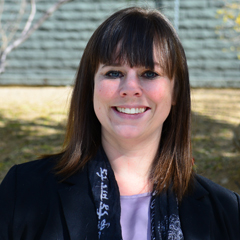 January 15, 2013

Laura Cline, a member of the Yavapai College English Department faculty, has been selected to serve as a Phi Theta Kappa's 2013 Faculty Scholar. Cline is one of only 25 community college instructors nationwide selected for this honor from among nearly 3,000 chapter advisors. The scholars were selected through a rigorous application process based on knowledge of the 2012-2013 Honors Study Topic, "The Culture of Competition," and demonstrated excellence in teaching or administration.

Cline, who lives in Prescott and has been a member of the Yavapai College faculty for four years, said she's excited about this professional development opportunity. "Working with Phi Theta Kappa students has enriched my experience at Yavapai College, and I'm happy that I'll be able to represent my chapter as a faculty scholar," Cline said. "I also look forward to learning more about the Phi Theta Kappa organization and the Honors Study Topic, so I can bring those ideas and resources back to the students here at the college."

"We congratulate [the Scholars] for being selected to serve and for their willingness and desire to surpass the traditional duties of an advisor by contributing in this manner," said Susan Edwards, Phi Theta Kappa's Dean of Academic Affairs and Honors Programs.

The group will attend the annual Faculty Scholar Conference at Phi Theta Kappa's Center for Excellence in Jackson, Mississippi, January 30-February 3, 2013. During the Conference, the Scholars will prepare to serve as facilitators during Phi Theta Kappa's Honors Institute, to be held June 17-22 at Villanova University in Pennsylvania.

While attending the Honors Institute, these Phi Theta Kappa Faculty Scholars will lead groups of 15-20 honor students in seminar discussions of the issues presented by experts on the topic throughout the week. The Scholars will attend Part II of the Faculty Scholar Conference prior to the Honors Institute, June 15-17 at Villanova.

"The Faculty Scholar Conference is recognized internationally as one of the finest professional development programs available for community college faculty members," said Phi Theta Kappa Executive Director Dr. Rod Risley. "Intense training is provided by nationally recognized scholars to prepare the Faculty Scholars to serve as facilitators for the Honors Institute, which is attended by approximately 400 Phi Theta Kappa members and chapter advisors from around the world and praised as 'the crown jewel of honors programming experiences'."

###
---