Lynne Leakey To Lead EDventures African Safari
Unique trip combines wildlife viewing, cultural exchanges
Last updated: 1/23/2013 11:17:19 AM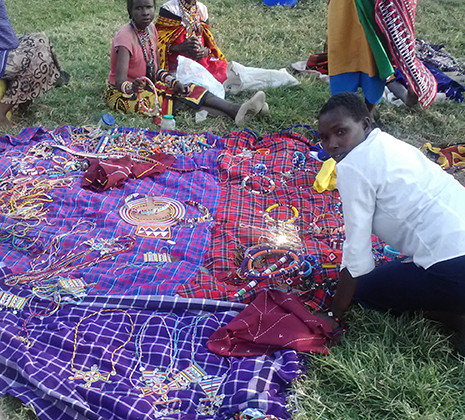 Lynne Leakey will be the naturalist guide for the Yavapai College EDventures safari to Kenya, August 7-19, 2013. This unique safari combines wildlife viewing with cultural exchanges and educational service to schools and orphanages. The deadline to reserve a place on this tour is Monday, February 4, and space is limited. Travel is organized through Adventure Travel and Maniago in Kenya.

With a focus on children's education, EDventures travelers will visit local villages and schools and work directly with the children. While on safari, travelers will be accompanied by Maasai Chief James Oloishuru Ole Nairuko and will visit his village as part of the cultural exchange. Multilingual driver-guides will escort guests through villages where they can mingle with village inhabitants.

The tour starts in Nairobi, Kenya with visits to the Giraffe Center and the David Sheldrick Wildlife Trust where there will be an opportunity to interact directly with orphaned elephants, hand-raised and protected with the intention of reintroducing them back to the wild.

An incredible array of wildlife roams the grasslands and riverine forest where clumps of distinctive acacia trees grow, watched over by Mt. Kenya and Mt. Kilimanjaro in the distance. The Maasai Mara boasts one of the highest lion densities in the world. August is prime time for the wildebeest, zebra and gazelle migrations, an unmatched spectacle of up to two million animals on the move.

The tour also will take guests into the Great Rift Valley and capture the color of massive flocks of flamingos at Lake Nakuru National Park. Other highlights include a visit to a women's beading cooperative that helps finance childhood education, a tour of a tea and coffee farm, and guided tours of the Nairobi National Museum and the Karen Blixen house, whose namesake is the author and central character of the movie "Out of Africa."

Leakey, who calls Sedona home when she is not in Africa, has observed and studied the wildlife, ecology and people of central Africa throughout her career. She leads custom safaris and lectures regularly on topics such as the social behavior of elephants, the Maasai people and the national parks of East Africa.

Details of the August tour are available online (http://www.yc.edu/v4content/lifelong-learning/edventures/) or by calling 928-717-7755.
---