Job Training Program Open House April 23
Learn about opportunities for well-paying electric utility jobs
Last updated: 4/23/2013 4:22:54 PM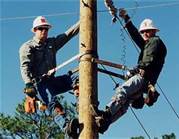 People who are interested in well-paying jobs in the electric utility industry are invited to attend a program preview night on Tuesday, April 23, 6-7:30 p.m. at Yavapai College's Career & Technical Education Center (CTEC), 220 Ruger Road near the Prescott airport.

Guests will learn about Yavapai College's new Electric Utility program that trains students to become linemen and substation maintenance technicians for electric power companies nationwide. "The typical average annual pay for an Arizona lineman is $58,000," notes Rick Peters, electrical & instrumentation technology instructor for the college. "With overtime, lineman can make more than $100,000 a year."

The college has openings for 24 students who will begin training this summer on a two-year degree track. Applicants must be physically fit, not afraid of heights and willing to work outdoors regardless of the weather. A typical power pole is 36 feet high, and linemen routinely climb up and down these poles quickly. They also use bucket trucks to pull new lines and maintain existing power lines.

Peters points out that the program will provide "tons of hands-on experience" that will prepare graduates to enter the apprenticeship programs of power companies. "This new program piggybacks on our existing Electrical & Instrumentation Technology program that is extremely well-equipped," Peters adds.

"John Henderson, our lineman instructor, is an International Brotherhood of Electrical Workers Journeyman Lineman with more than 10 years of field and teaching experience," Peters says. "He has run IBEW internship programs and is a certified helicopter lineman."

For more information about the preview night or the Electric Utility program, contact Rick Peters at 928-771-6114 or via email: rick.peters@yc.edu.

###
---