Family Enrichment Center Helps Kids Develop Skills
Center continues to promote strong families
Last updated: 7/25/2013 4:22:07 PM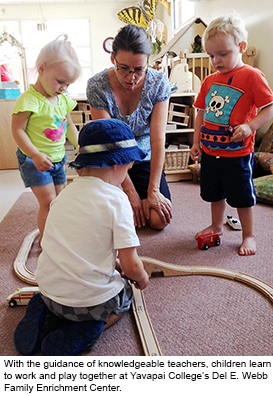 Chloe, age 2, carefully leads a wooden toy train across the track she and her friends just laid out in their classroom at the Del E. Webb Family Enrichment Center. At the same time, Cole, also 2, leads his train in the opposite direction - towards hers. Their trains gently collide. Cole begins to cry angrily. Master Teacher Lisa Dotseth quickly intervenes. "Cole, did you want a turn driving your train on the track?" she asks. "Can we ask our friend Chloe for a turn and say please?" The little calamity is quickly resolved.

Research consistently has shown the many benefits of quality early education on child's success, including that kids who attend quality preschool or childcare have better social skills and better relationships with their peers. Critical social and behavioral skills, such as patience, motivation, focus, self-discipline and self-esteem take root from birth to age five. Successful people share these traits, and experts agree that it is important that kids have the tools they need to develop these essential skills in their early years.

At the Del E. Webb Family Enrichment Center (FEC), an early learning program located on the Yavapai College campus in Prescott, highly trained teachers like Dotseth guide children to develop their important social and behavioral skills every day. The center serves children ages three month to five years old.

"It's natural for young children to be very focused on their own needs and wants, but that doesn't mean they can't learn to be sensitive to the needs and feelings of others," said Vickey LaMotte, Director of the FEC. "Here at the Family Enrichment Center, we see it as our role to help children develop the skills they need to work cooperatively with others. Children learn to use their words to ask for what they want, to pay attention to what others are saying and to negotiate and compromise with one another. Developing self-regulation skills early in life prepares children to be successful in their interactions with others throughout their lives."

It takes a great deal of formal preparation to be able to guide young children to develop these skills. "One of the most important parts of quality early education is a trained, knowledgeable teacher," says LaMotte. "We need educated teachers who understand child development and know how to support children to reach their potential." The FEC also functions as a lab school, training Yavapai College education students to become sensitive and effective early childhood educators. Students work in the classrooms beside a master teacher, who provides them with ongoing guidance and feedback.

The FEC recognizes that parents are a child's first and most important teachers. By holding regular parenting education classes and meeting with parents to touch base about their child's development, the FEC partners with parents in their child's early education.

"Children are our future, and when more kids develop the critical social skills they need to succeed, everyone benefits," says LaMotte. "By providing high-quality early education, promoting strong families, and training future early educators, the FEC is making a positive impact—now and for generations to come."

To learn more about the Del E. Webb Family Enrichment Center, contact Vickey LaMotte at 928-776-2174.
---