District Governing Board September Meeting Report
Board Honors Chuck Mabery with Pavilion Naming
Last updated: 10/13/2013 3:36:59 PM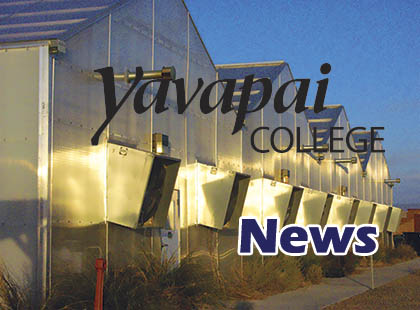 The Yavapai College District Governing Board (DGB) held its regular monthly meeting on Tuesday, September 10 at the Verde Valley campus in Clarkdale. The five-member DGB, which is comprised of elected Yavapai County residents from five districts, is responsible for governing on behalf of and is accountable to Yavapai County taxpayers. Board members Dr. Dale Fitzner, Herald Harrington, Dr. Patricia McCarver, Robert Oliphant and Ray Sigafoos (Board Chair) were present at the meeting.

Following the regular monthly meeting, the Board played host to a public ceremony to formally name the campus' distinctive pavilion The Charles "Chuck" Mabery Pavilion. Mabery, who passed away earlier this year, was a long-time local resident who was instrumental in establishing the Verde Valley campus. Community members joined Mabery family members at the gathering. Board Member Herald Harrington told Mabery's assembled friends and family members, "I don't think there was one time that I talked to Chuck when the first thing he asked wasn't, 'How are things over at the college.' Education was always near and dear to his heart." Mabery was the first person to receive an honorary degree from Yavapai College.

Board actions included:

The Board approved the Intergovernmental Agreement Renewal between the College and the Mountain Institute Joint Technical Education (JTED). Through this program, Yavapai College provides college courses to JTED high school students who are eligible for enrollment in courses offered by the JTED.

The Board adopted a revised policy that clarifies its right and responsibility to name an acting president of the College "when the President is physically incapacitated or unexpectedly absent for a long period of time."

The Board voted to appoint Dr. Dale Fitzner as the voting delegate at the Association of Community College Trustees (ACCT) Annual Leadership Congress in October.

Reports/announcements included:

The College has narrowed to three finalists the field of candidates for the position of vice president of instruction and student services. The three finalists will participate in open forums with faculty and staff on the Prescott and Verde Valley campuses this week.

More than 300 students, faculty and staff members participated in the College's Service Learning program during the spring 2013 semester. Through this program, students volunteer in community organizations as part of their work in certain classes. According to the Noble Hour website, the economic impact of the College's Service Learning efforts last spring was $90,225 for the 38 community organizations served.

The College launched its First Year Experience program this semester, with a third of new degree or certificate seeking students attending one of six orientation programs. A follow-up survey revealed that 99 percent of students felt "better prepared to be successful at Yavapai College" after attending the orientation.

The Board's next regular meeting is Tuesday, October 15, 1 p.m. at the Chino Valley Agribusiness & Science campus, 2275 Old Home Manor Dr. in Chino Valley.

The full agenda for the September meeting is posted online at http://www.yc.edu/v5content/district-governing-board/minutes.htm

CableOne Access 13 records all regular board meetings for subsequent broadcast. The broadcast schedule is available on the Access 13 website at http://www.access13.org/index.php?option=com_content&task=view&id=56&Itemid=17&catids=5
---